Dennis Hackethal continues to read and plagiarize the hell out of Elliot, while fully ghosting Elliot, e.g.:
https://blog.dennishackethal.com/posts/animal-sentience-discussion-tree
I've been practicing having discussions to a conclusion and addressing all outstanding criticisms.
He now does discussion trees, Paths Forward, conclusive discussions and libraries of criticism, with no credit.
His discussion tree is auto-generated from tweets, but the post says "Twitter is horrible for discussing" (and gives two reasons, one of which he learned from ET/FI).
Dennis has also started naming Elliot sometimes and making some half-hearted attempts not to plagiarize every single idea of Elliot's that he uses, e.g.:
https://blog.dennishackethal.com/posts/choosing-between-theories
The problem is that of breaking symmetry , which is an idea by Elliot Temple, see Curiosity – Symmetry and Curiosity – Epistemology.
But he continues to plagiarize other stuff, as above. He's also such a bad writer and thinker that people reading this will probably believe Elliot is discredited by association.
In comments there he admits that he continues to read Elliot's work to fill in gaps in his philosophy:
But yea either way maybe what Elliot's written fills the gap. I have yet to read it.
The gap he's talking about is if you reject corroboration then CR has a gap and needs some sort of replacement.
I can't wait for his second book, which will presumably be about Yes or No Philosophy. /s
Dennis is also a jerk who tweets mean right wing politics. Here's his most recent tweet: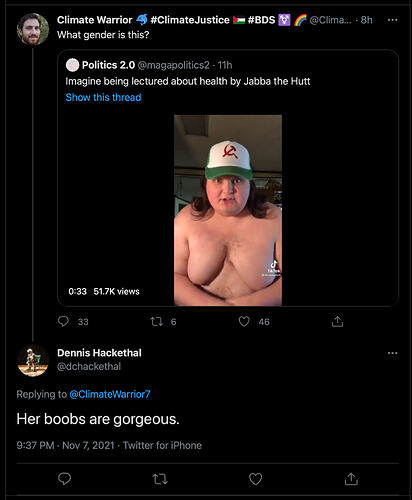 He also did a blog post attacking overweight black women (followup post to attacking non-anorexic models on billboards)